A Book that was Angel driven ... Order Online Now & Receive A Very Valuable Thank You Gift!
Gloria Messenger, The Angel Messenger
A Mirroring Discovery...with Angel Visitation!©
Published by Balboa Press (Ebook Available Via Balboa)
(A division of Hay House Publishing)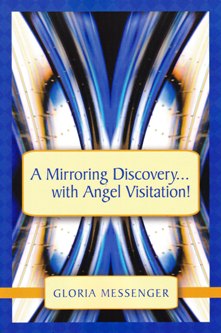 ISBN: 978-1-4525-4009-2
On December 13th, 1994 Gloria Messenger was visited by Angels. She was surprised and shocked by this because the thought of working with Angels had never entered her conscious mind
DRAW HIS ANGEL ... was the request she heard loud and clear! How? Why? Who? .. were just a few of the questions that flew out of Gloria's mind as all her senses were immediately alerted. Read the details of Gloria's amazing story as well as the truly insightful information she has channeled from the Angels of The Light over the past 17 years, within the 300 pages of this book

A MIRRORING DISCOVERY ... with ANGEL VISITATION! will answer your questions about life, about heaven, about your mission and also give you a glimpse of how our Angels work with us 24/7. Listen in on a 3-way conversation. Gloria's ... Mind and Soul are engaged in a dialogue with The Angels of The Light as part of this book is offered in a narrative of questions and answers of amazing insight to our intricately designed lives. We can gain insight into all our ever-present questions. Uncover the somewhat hidden clues to our life mission. Recognize what level of growth we are maintaining and the areas of further assistance offered by The Angels of The Light. Take our Emotional Pulse. Become alert to a Swing Exchange Venture when it is happening. See what is pulling our carriage. Realize our intricately designed itinerary and become aware of how we have applied it to our life. This book is filled with descriptive heavenly visitations insight and guiding explanation to empower each of us on our personal journey.

What others are saying about - A MIRRORING DISCOVERY ... with ANGEL VISITATION©

"I watched as Gloria allowed this book to flow through her in a matter of weeks and still left her with the energy to attend events to share messages, keep up with channelling angel portraits and spend time with her husband, children and grandchildren. She was alive with Angel Energy and remains so even now that the book is complete. A Mirroring Discovery...with Angel Visitation!© is amazing and needs to be read by ALL who believe in the influence of Angels in their lives and ALL who are still doubting. You will definitely see things more clearly and be able to look at the world more through the eyes of our friends in high places!" (Carolyn Shannon, Author, Artist, Owner of Venting Creatively & Co-Founder of Women of Worth Online Magazine)
"FINALLY! Courageous, Insightful and thought prov.oking. Gloria's book A Mirroring Discovery - with Angel Visitation! has answers to the ever present question—Why? Well done!" (Terri McCallum, Royal LePage Broker)
"Reading this captivating book has tremendously heightened my spiritual awareness. One feels a releasing of old patterns while absorbing each chapter! The Angel messages within Gloria Messenger's personal story have now started me on a deeper spiritual journey. I encourage everyone who wants to grow to the next level to read this empowering book. Gloria Messenger and 'A Mirroring Discovery' will change your life forever!" (Sue London, Radio Host of GET INSPIRED RADIO, Motivational Speaker, and Author)
Order YourCopy to be One of the First to Enjoy... A Mirroring Discovery...with Angel Visitation!©
As Gloria's Thank YOU for Your Act of Faith In Pre-Ordering Her Book She Gifts YOU with A Complimentary Download of Her On Wings You Connect Angel Meditations
OR
For Limited Time...
Order from Amazon to receive these free incentives!
OR
PRINT OUT CANADIAN ORDER FORM / PRINT OUT US ORDER FORM
& Send CAD or US Money Order to:
Gloria Messenger, P.O. Box 1954 Niagara-on-the-Lake, ON L0S 1J0